EXTRA CURRICULAR STUDENTS CLUBS
REPORT ON A TRIBUTE TO AMAR SHAHEED HEMU KALANI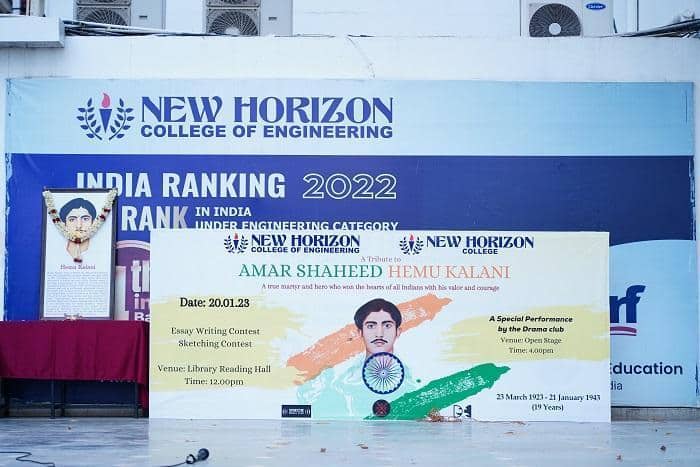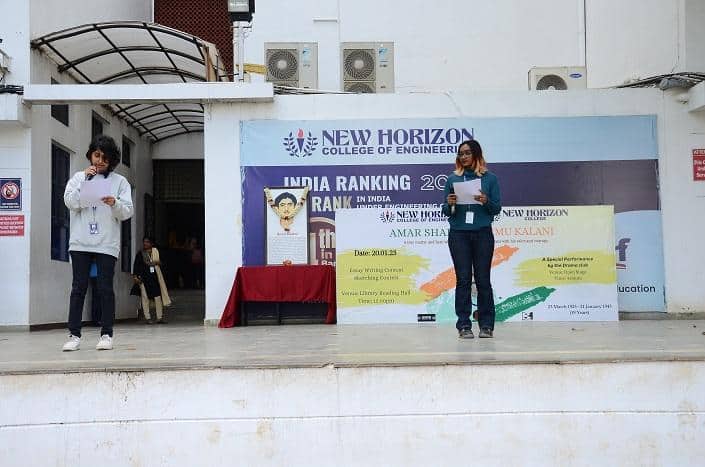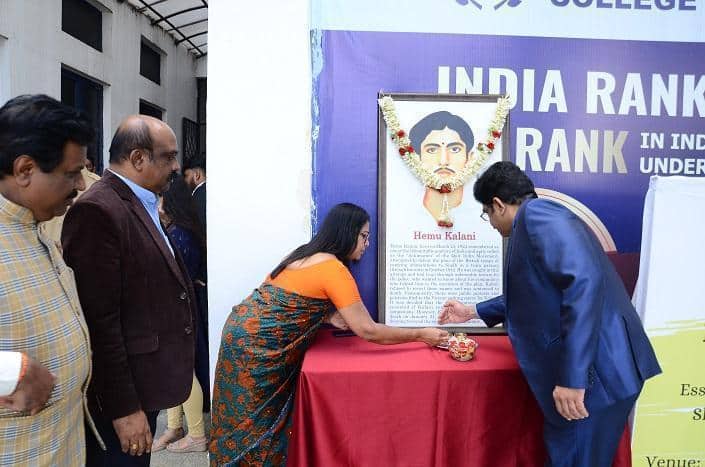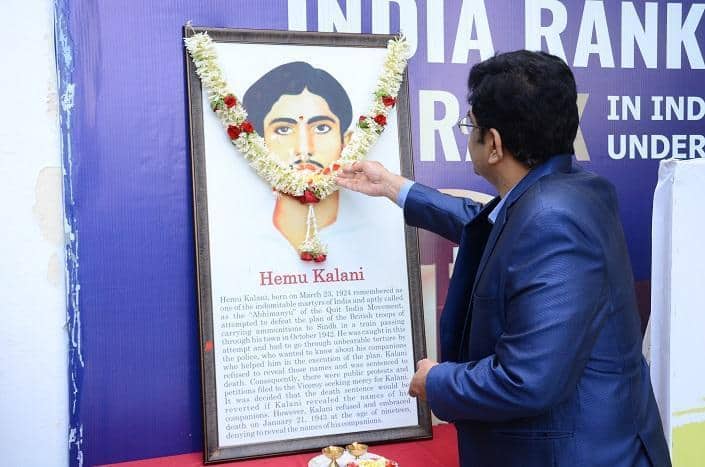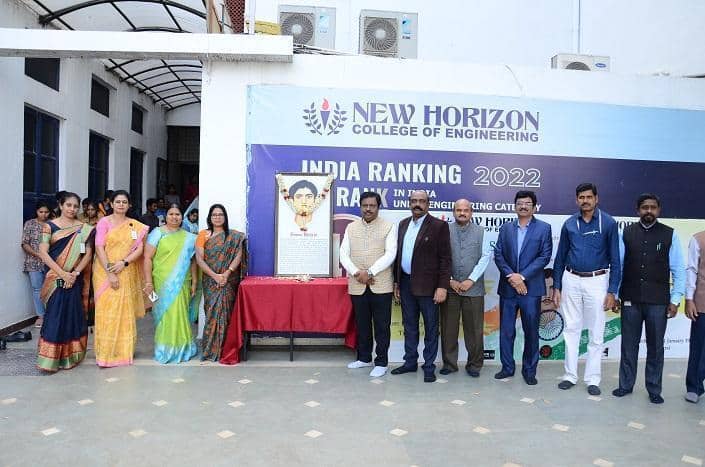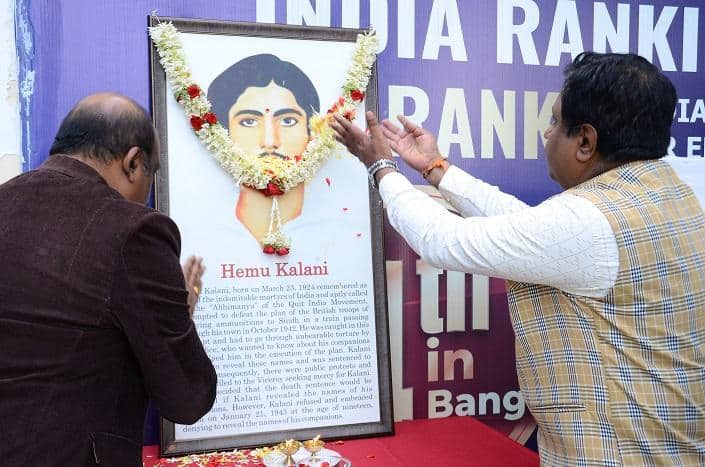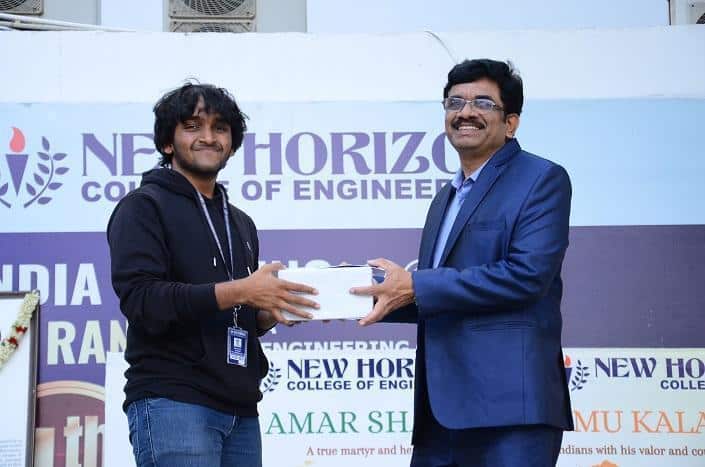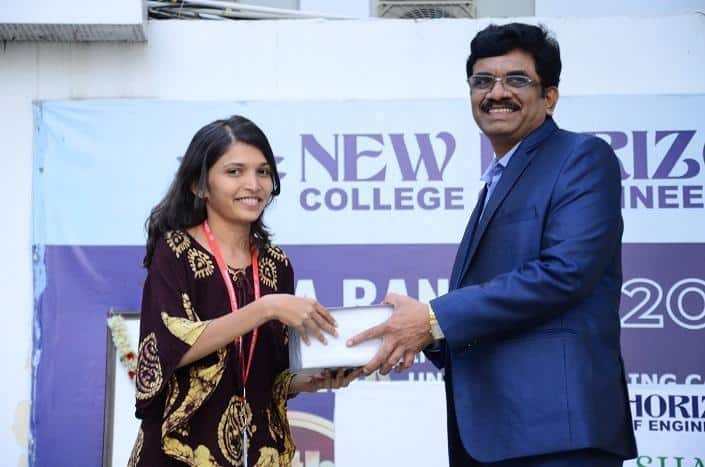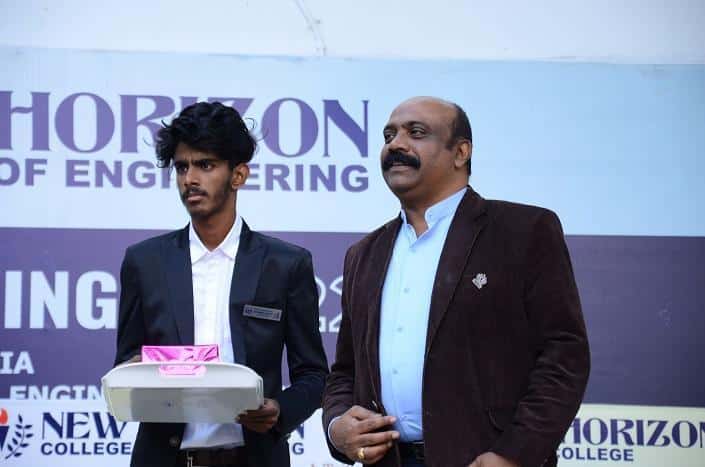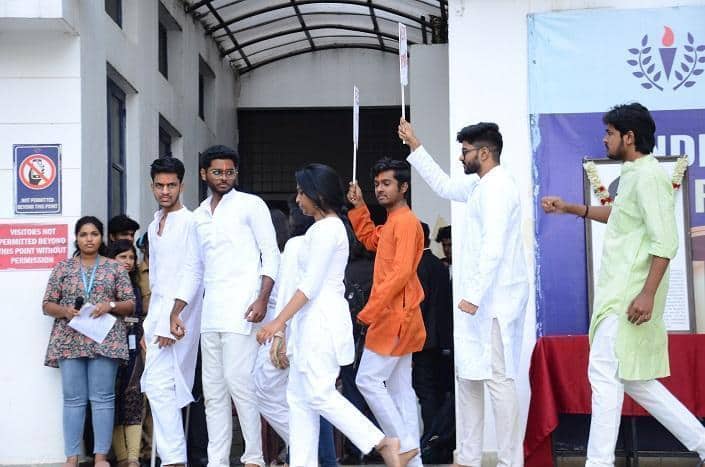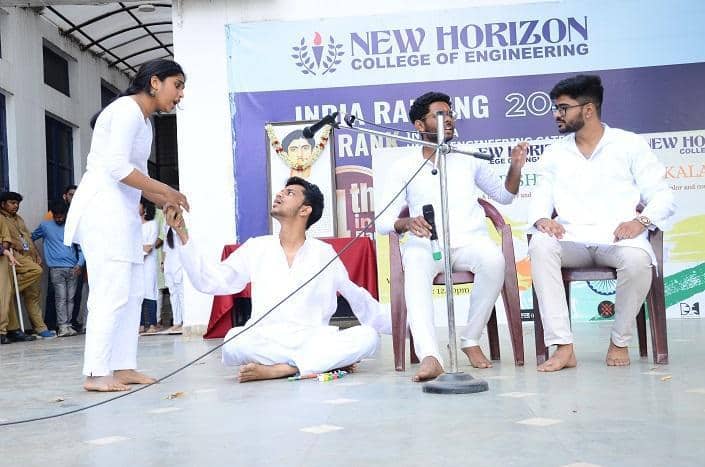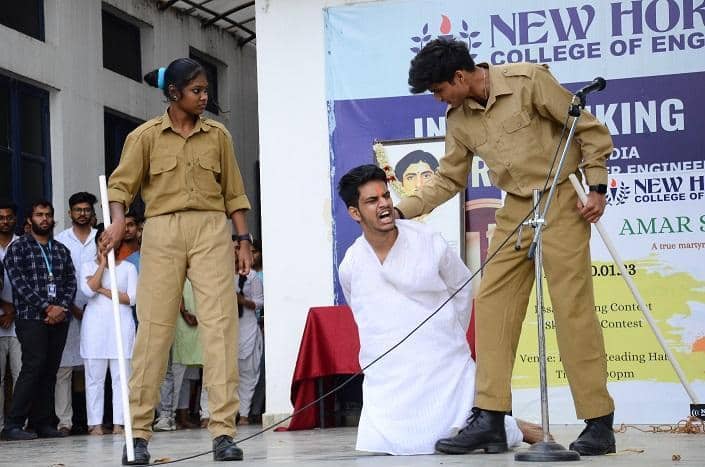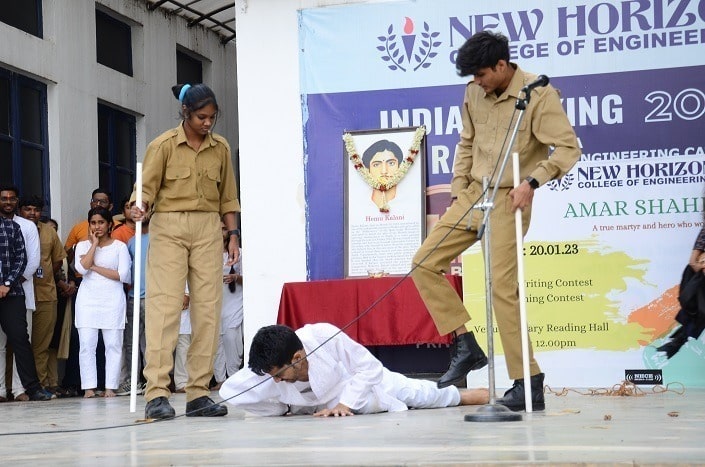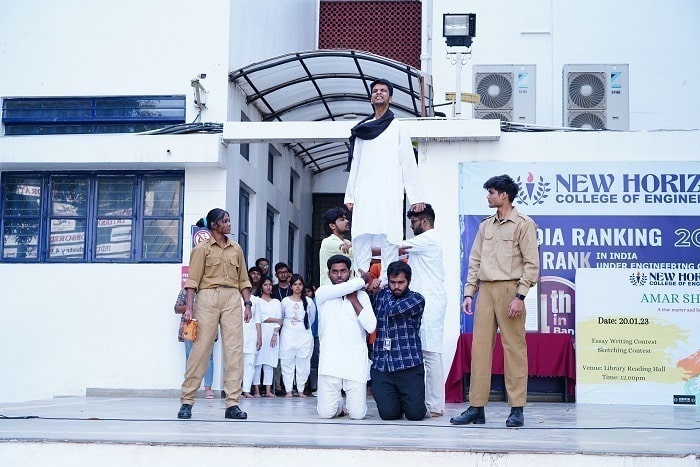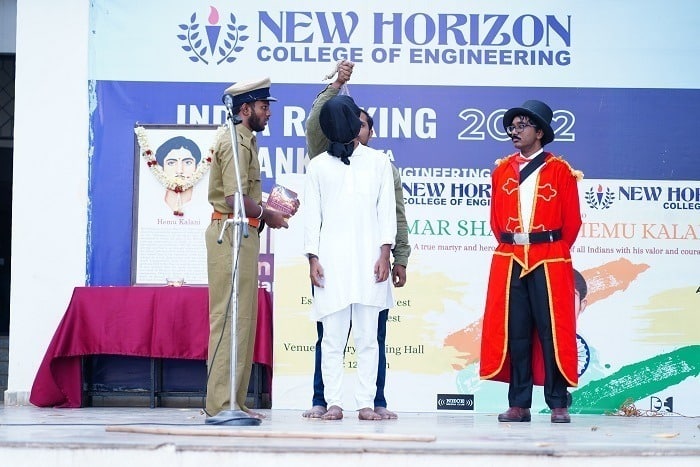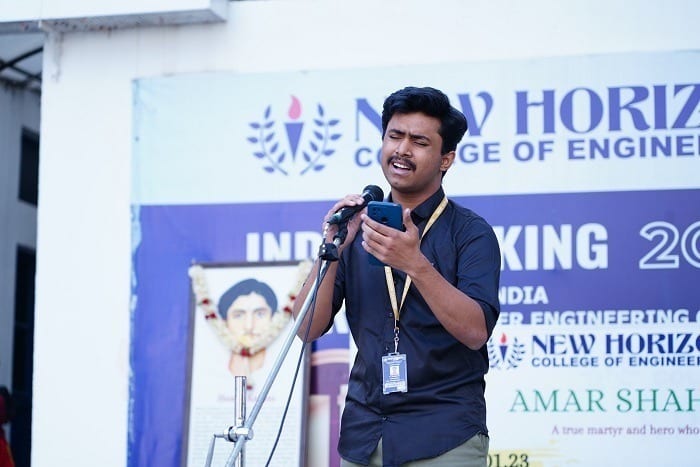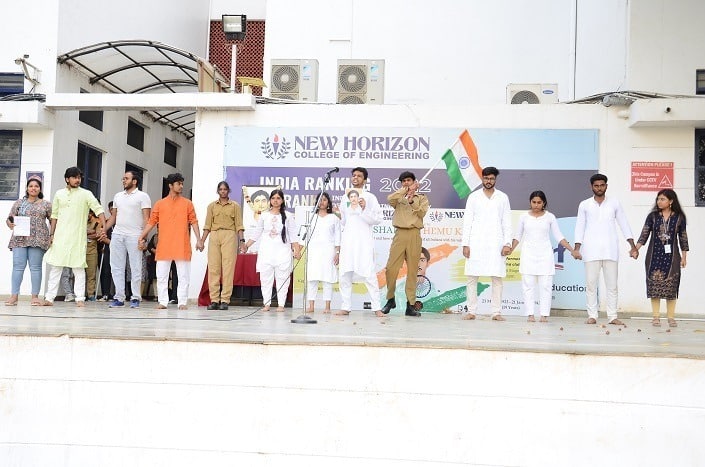 REPORT ON A TRIBUTE TO AMAR SHAHEED HEMU KALANI
New Horizon College of Engineering Media Club, Art Club and Drama Club in collaboration with New Horizon College Marathalli organized "A Tribute to Amar Shaheed Hemu Kalani" on 20th January 2023, at NHCE Campus.
Hemu Kalani was a revolutionary and freedom fighter during the Indian Independence Movement. He was a leader of Swaraj Sena, a student organization which was affiliated with All India Students Federation (AISF). He was one of the youngest revolutionaries to be martyred for the nation's freedom struggle, being executed by the British colonial authorities when he was only 19, two months before his 20th birthday.
On the 80th death anniversary of Shaheed Hemu Kalani, New Horizon College of Engineering honored the martyr for his dedication, respect and immense love for our nation by lighting the lamp and mourning his struggle.
Students of New Horizon College of Engineering and New Horizon College Marathalli dramatized an inspiring incident on his life and a circumstances where Hemu Kalani found out that a train of these troops and their supplies would be passing through his local town and decided to derail it by removing the fishplates from the railway track, this despite the fact that neither he nor his colleagues had the necessary tools and so had to use a rope as a means to loosen the fixings. They were seen by the British before being able to complete the sabotage. Hemu was caught, imprisoned, and tortured by the Indian Imperial Police in an attempt to get him to reveal the names of his co-conspirators. He refused to divulge any information, was put on trial and sentenced to death. The people of Sindh petitioned the Viceroy for mercy but the condition of granting it was that the authorities must be told the identity of his co-conspirators. He again refused to pass on the information and he was hanged on 21 January 1943.
Media Club and Art Club conducted the Essay Writing Contest and Sketching Contest to students, and the winners were awarded with memento and certificate by the Principal Sir.
Essay Writing Contest Winners
1st Prize – Apoorva K
2nd Prize – Bhagyashree V C
3rd Prize – Adhithya B N
Sketching Contest Winners
1st Prize – Shreya Veerapur
2nd Prize – K Charitha
3rd Prize – Kanagala Joshna
The event was concluded successfully by remembering his bravery, daring and courageous acts during Indian Independence movement.