Dr. Reena Jain
Chief Counsellor
Department of Counselling is headed by Dr Reena Jain who is an internationally registered clinical psychologist with over 20 years of experience in providing internal and external teaching and consulting services across the broad spectrum of Human behavior, mental health- counselling /therapies & analyzing new ways of adjustment to this ever-changing environment. Her contribution to the field of academics is remarkable for which she became the recipient of Bharat Jyoti Award by Governor of Sikkim in 2013. She has a long list of national and international publications and presentations e.g. best paper presentation award in international conference on Psychology and Social harmony in Beijing, China in 2015. International book on Personality, Patterns of Adolescents, Keynote speaker in Sapinza University, Italy,Rome, 2018 in the international conference on interdisciplinary studies.
Department of Counseling offers individual, group and family counselling in the campus. Department is equipped with 7 professionally qualified counselors who are easily approachable to the students and help them to deal with their daily life challenges and develop an insight for making right choices and decisions in their lives. In the department, each counsellor allows an individual to have an opportunity to improve upon their understanding of themselves, including their pattern of thoughts, behaviour, feelings and the ways in which these may have been problematic in their lives. It also helps to examine how to tap into existing resources or develop new ones that enhance their academic and personal lives
Mission
To create the optimal therapeutic environment with the use of appropriate counselling techniques for the purpose of:
Promoting the students' development in all aspects of personal (mental, emotional, social, physical) well-being and academic growth.
Enabling the students to gain the maximum benefit from the facilities provided at NHCE.
Helping students from various social, economic, lingual backgrounds adapt to the requirements of college life in a cosmopolitan city.
Ascertaining that the students make continuous progress on the path of self-awareness and discover new ways to develop their potential and talents to the fullest.
Vision
To help the students transform all life challenges into opportunities for maximum academic achievement and optimal personal growth so that in due course of time, they become valuable assets to the society.
Our Philosophy
The Counselling Centre is grounded on the simple philosophy of respect and honor; respecting individuality and honoring diversity. As Counselors we believe in the strength and resourcefulness of our students that the resolution to their life difficulties emerges from within them. We believe and are dedicated in creating a safe space to deal with their pains and to hear their struggles, touching them with compassion and understanding to bring about healing and renewed strength.
NHCE Student Counselling Centre
The Student Counselling Centre is where professional, confidential counselling service is available to all registered students of NHCE.
Counselling provides the opportunity for any student to discuss in private any concerns which may be impacting on academic performance or personal health and well-being.
In the course of the counselling process, student's strengths are highlighted and maximized with a focus on client's self-growth, self-awareness and self-acceptance.
Counselling may provide a chance to find a new perspective on the problem and often to become more accepting of oneself in the process
Counselling is generally offered on a one to one basis, is short-term in nature, is strictly confidential and is provided free of charge.
Self-referral to the Service is welcomed and encouraged.
Counselling is the process of enabling a person so that she/he can make the right choices and decisions in life. Only in some conditions does counselling bring about quick, dramatic change. Usually, it takes some time. The counselling process works by forming of a unique, therapeutic relationship between the counselor and the client. A personal space of mutual trust is created where the client can share his or her concerns, in an accepting, non-judgmental, confidential environment. In such a space, the client feels genuinely listened to and thus is empowered to find solutions by getting in touch with his/her internal and external resources. Advice giving is not a part of counselling because solutions imposed from outside usually do not work as every person is unique and is a product of his/her unique circumstances.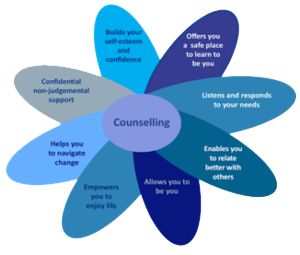 Who is Eligible for Counselling?
Counselling can help anyone who needs a safe space to vent psychological pain. Counselling can help those who need to change their beliefs, value systems, behavior patterns when these are unfavorably impacting their goals or quality of life. In the college environment, the enhancement of academic performance and well-being on the campus are the ultimate counselling goals.
These can be impacted by any issues in the student's family, social or college environment. Help in dealing with these issues will result in student performing better. Any student exhibiting unusual or undesirable behavior or a significant change in behavior should be referred to the counselor.
Why is Counselling Required in Educational Institutions?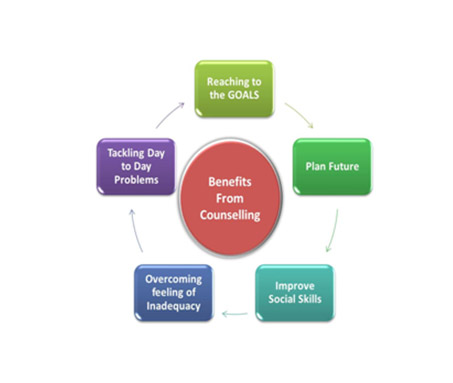 Life, these days, is becoming increasingly fast paced and complex. The social structure is changing rapidly. As more and more families are becoming nuclear with both parents working, the growing child/adolescent finds him/herself increasingly isolated. With rapid proliferation of technology, addictions like social media, gaming, and texting are becoming increasingly common. In these conditions, many students lack a sense of direction or purpose which makes them prone to distraction and leads them to indulge in undesirable activities. They are deflected from the primary goal of acquiring academic excellence and skills essential for their upcoming professional life. Transitioning from school to the college environment necessitates adjustment on many counts ex. adjusting to the fast paced semester system, the hostel environment, homesickness, lack of language proficiency etc. The student also needs to adapt to the pressures of the academic workload. Techniques like time management, stress management are of significant help in this regard. Many students also face personal/ family related problems which impact motivation level. All these factors indicate the need and importance of college counselling services. Adequate counselling facility is the answer to help and guide the youth to worthwhile channels and help them to realize the goals of optimum academic, personal and career development.
Who is a counselor?
We are here for you and we will do what we can to support you.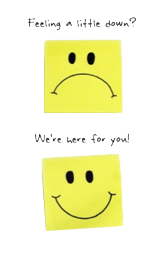 A Counselor is impartial and non-judgmental, helps to explore issues which are causing you concern or distress and help you find coping strategies or resolve your issue.They aim to empower you to make the right decisions to improve or change your current situation.
When to approach a Counselor?
There are many reasons why someone might choose to access counselling services including: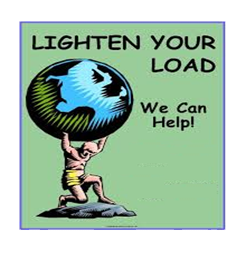 Body image
Eating disorders
Self-esteem
Coming out
Transitioning
Family conflict
Relationships
Emotional or social concerns
Depression
Apathy
Exam anxiety
Brief therapy or short term therapy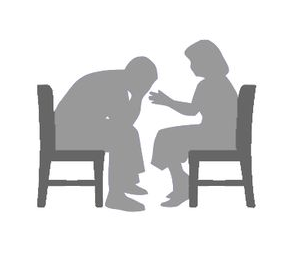 Brief therapy or short term therapy is defined as psychotherapy lasting in duration from one session to twelve sessions.
This mode of therapy makes psychotherapy available to more people who are unable to access it for money or time constraints.
Short term therapy employs some special techniques that can speed up the process and the results are many times as good if not better than long term therapy.
The key elements include:
Focus on a specific problem and not reshaping personality. This involves rapid identification of and attending to the primary area of current concern. (ex. Conflict with spouse/employer)
Active involvement of both therapist and client. In this mode of therapy, the therapist speaks more than what is usual in long term therapy (more questions, answers, feedback, active problem solving). The client is given between session homework (keeping a personal journal, check lists, trying out new behaviors in life situations).
The client is equipped with interpersonal coping and stress reduction skills like visualization, progressive relaxation.
Brief therapy is not a quick, magical cure-all but it can be a tremendously useful resource in painful times. It can be the foundation for successfully handling tough times that might come later.
It is not the appropriate course of action for people who have undergone extremely difficult times and have deep emotional wounds. Brief therapy can be the starting point but longer therapy will be required. Sometimes it can open emotional wounds in them and not provide the resolution. It will be harmful in such cases.
Brief therapy is also contraindicated in severe, chronic mental disorders like bipolar or manic depressive illness, schizophrenia which require long term support and psychiatric treatment.
FACTORS LEADING TO DROPOUTS IN ENGINEERING COURSES
| | Challenges | Possible solutions |
| --- | --- | --- |
| 1 | Students are told "Engineering is the ticket to a good life. Failure will reduce the chances of getting a good placement." This frightens students and their goal becomes rote learning and passing rather than trying to understand concepts which take more time and effort. They do not experience the joy of learning. | Emphasis on learning. Explaining to students that in a professional course knowledge of subject is very important as they will need it in their working life. |
| 2 | Our education system encourages exam oriented rote learning. Students coming from some of the colleges lose the habit of studying from the text books, understanding concepts. | Emphasis on learning. Explaining to students that in a professional course knowledge of subject is very important as they will need it in their working life. |
| 3 | For students coming from different states who have studied till PU in their vernacular medium, communicating in English becomes a problem, especially in the first year. Apart from the difficulty in academics (they do not know the English terms for many things) they also have difficulty in communicating with classmates, forming friendships. They feel inferior, less confident and left out. It is very important for adolescents to belong to peer groups and feel accepted. | Conducting English classes to bring up proficiency in the language. Creating awareness that English is a language which can be easily learnt over some time. English is not superior or inferior to Indian languages. |
| 4 | Some students, especially in first year, find it difficult to adjust to seven hours of classes, particularly in post lunch hours. One core subject after another makes it difficult for them to concentrate and they feel drowsy. | Conducting group activities in classroom based on critical thinking to make learning easier and generate interest |
| 5 | Many times students lose interest because they cannot connect the subject matter to real life situations. The study becomes "pointless". | Connecting subject matter to real life applications in class. |
| 6 | Students in first year do not know much about their chosen branch. They cannot appreciate the fact that whatever they are learning in first year will be put to use in later semesters. | First year students can assist senior students in projects. Senior students can conduct seminars on their projects for first year students |