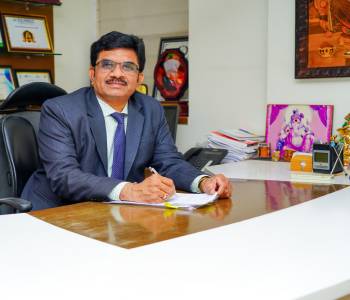 Greetings from The New Horizon College of Engineering!
The main aim of every educational institution would be 'to convert the mind into a living fountain and not a reservoir. That which is filled by pumping in, will be emptied by pumping out'
A teacher affects eternity; he or she can never tell where his or her learning stops. Thus, the mediocre teacher tells, the good teacher explains, the superior teacher demonstrates, the great teacher inspires'. Education in the widest sense includes everything that exerts formative influence and causes a young person to be what he is at a given point. Educational institutions should not be simply 'information supermarkets'; instead they should shape and mould human beings.
At the New Horizon College of Engineering, we take immense pride in the fact that our students receive the best quality education. This is made possible by following very high standards of teaching and learning. Our excellence is not just confined to the classroom; we are also notably active in conducting conferences, workshops, seminars, guest lectures and other co-curricular activities. These activities expose students to aspects beyond the curriculum, thus adding high value to their professional success. The magnificent infrastructure of NHCE sets the right ambience for an excellent teaching learning environment combined with the use of the finest technology. These technologies have been tremendously successful in facilitating a highly effective learning environment.
The provision of extracurricular activities like sports and cultural activities strengthen the process of learning, and help to instil in the students the values of hard work, discipline, fair play and the spirit of sportsmanship. The state of the art auditorium and a one of its kind indoor stadium in NHCE have played host to numerous sporting events and cultural activities. We strongly encourage students to participate in these activities and showcase their talent.
At NHCE, we understand that the need to teach beyond the curriculum is of prime importance, in order to make our students 'industry ready'. Recent observations and surveys indicate that a majority of engineering graduates do not possess the suitable skills required to be hired and absorbed by varied industries. To overcome this shortcoming, we at NHCE understand that the curriculum needs to be updated based on the requirement of the industries. However, this would not be possible when the college is affiliated to a university and is bound by its regulations and policies. Hence, in order to offer students a curriculum which is student friendly and has practical relevance, NHCE has acquired autonomous status which would be instrumental in minimalizing the limitations and challenges that are faced by affiliated institutions. NHCE has always been in the forefront, and has provided industry related training at the laboratories established in collaboration with some of the leading industries, thus enabling students to secure relevant placements and jobs.
We are one of the few institutions in India to offer three variants in our undergraduate and post-graduate courses. These three variants viz. global, professional, and executive programs have a plethora of certification programs and other soft-skill features that ensure industry readiness in students.
For the past four decades, New Horizon has been associated with quality education. It is a well acknowledged and established fact that the New Horizon College of Engineering, practise and promote, 'holistic education' which is a remarkably rich blend of curricular, co-curricular and extra-curricular learning and activities, thus making New Horizon College of Engineering an excellent institution of higher learning!