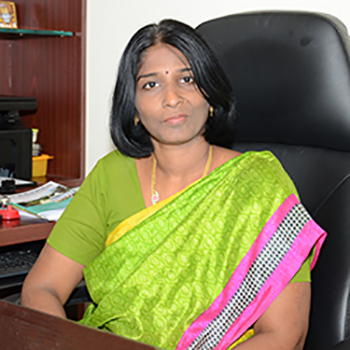 Dr. R.J. Anandhi
(B.E., M.Tech., Ph.D.) Dean Academics
Higher education in India is undergoing a remarkable transformation. The University Grants Commission (UGC) has been emphasizing on outcome-based education, rather than the traditional exam-centric educational system which was followed in our country for centuries. In outcome-based education, the real learning outcomes of students are measured in an objective manner mainly to ensure that our higher education system is more accountable and quality-oriented.
New Horizon College of Engineering attained the prestigious autonomous status from Visvesvarya Technological University (VTU), in August 2015. Since then, NHCE has revamped the curriculum and implemented major changes in the curriculumdelivery to a very large extent. Now, the emphasis is on comprehensive continuous learning rather than rote and exam oriented learning. This results in students spending more time in the laboratories than in the classrooms.The submission of mini-projects for assessment, has been made mandatory. This in turn helps the students in applying the theoretical concepts learnt by them.
We fully understand the vital importance of imparting life and communication skills to our students. We are probably one of the few engineering colleges in India with a separate life skills' training department with seven faculty members. It is mandatory for all engineers and managers in their first and second years of the B.E, MCA and MBA programs to opt for the life and communication courses offered by the NHCE.
We believe that the education received at our institutions, must translate into excellent career and job prospects for our students. At NHCE, we always work very closely with varied industries, to fulfill the job aspirations of our students. In addition to having an excellent placement department, we closely collaborate with varied industries at different levels. We encourage the industries in turn to play an active role as our partners in education. We have established sevencenters of excellence on our campus in association with world class companies and foreign governments. They are as follows:
Indo-French Schneider Electric Center of Excellence (Electricity, Automation and Energy Management)
Hewlett Packard (HP) Big Data and Data Analytics Center of Excellence
Adobe Digital Center of Excellence
VMWare IT Academy
SAP Next Gen Lab
Cisco Networking Academy
Qwest Global IIOT center of excellence
Each of these centers of excellence play an active role in the design and delivery of major components of our curriculum. Both professional electives and global electives are offered through these centers in the higher semesters of both undergraduate and postgraduate programs.
Finally, ever since we gained autonomy, we have ensured that a sizeable number of constructive changes have been made to the traditional curriculum in creating a word-class curriculum and a stimulating learning environment as well.
Welcome to New Horizon College of Engineering.