Predicting the 2022 Tech Landscape
Posted by

Categories

Blog

Date

October 28, 2022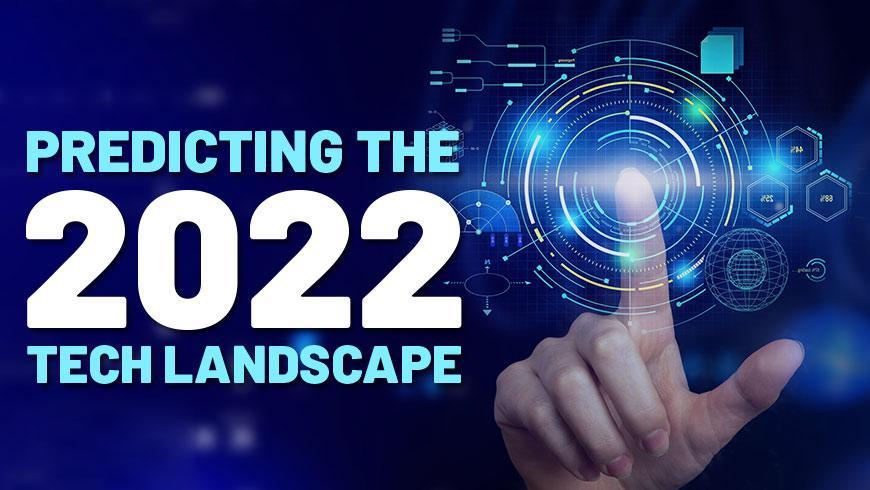 What will we recall about the year 2021? The completed year will always be remembered as the one in which individuals discovered how to endure the pandemic while continuing with their normal lives. Technology became a mainstay in all industries as individuals continued to spend their lives online, from hyper-connection to smart homes. Accordingly, 2022 will be a watershed year for disruptive technology, and some of the key trends to watch out for include streamlined cooperation, environment and sustainability, edge computing, artificial intelligence and machine learning, interruptive connectivity, augmented reality and virtual reality, and of course, the all-pervasive cloud.
Seamless Collaboration and Hybrid Work
While many businesses had already started to change their strategies to allow staff to work from home a few days a week, COVID-19 sparked the workplace ecosystem and ushered in the era of hybrid work. Employees are less interested in full-time remote work now, according to a number of surveys, including Barco's survey on future workplaces. Instead, they prefer working from the office a few days a week while having the flexibility to work from home when it's more convenient for them. Devices for seamless collaboration are enabling this trend and guaranteeing that hybrid work is at least as effective as in-person cooperation.
Edge computing
Edge computing is contributing to faster and more seamless data absorption and processing, as is the case with every disruptive technology. Edge computing enables data processing close to the location where the data is generated, ensuring that devices can operate more quickly due to the quick turnaround in data processing and transfer. Additionally, as the internet of things and artificial intelligence become more prevalent, the edge computing market is predicted to grow to 6.72 billion dollars by the end of the following year, according to research.
AI and ML
Although these phrases have been in use for a while, it wasn't until after the pandemic that they really gained traction and recognition for the way they help various businesses function at a high level. In fact, many of the businesses that adapted to the hybrid new era would not have survived without AI and ML. Similar to this, ML allowed businesses to digest enormous volumes of data and produce usable insights, enabling them to better adapt their services to the needs of the hybrid new world. With new use cases and widespread acceptance across industries, both of these markets are anticipated to develop tremendously in 2022.
5G
Thanks to 5G, a lot of nations now enjoy lag-free communication and disruptive connectivity, and India is not far behind. Given the widespread adoption of digital in all spheres of life, 5G will bring low latency and the potential to improve practically every industry and area. It's only a question of time, and it might happen in 2022 given that India now has a wide range of 5G-ready gadgets
AR and VR
Although everyone has heard about how adopting AR and VR might help players perform better, these technologies are now poised to emerge clearly from the gaming niche. People were confined to their houses during the epidemic and used VR and AR to access services like virtual shopping and tourism. Additionally, these advancements are being used to remotely train and skill individuals, so empowering the workforce. In fact, studies predict that the worldwide AR and VR market might reach a value of 209.2 billion dollars by the following year, demonstrating the potential present.
Cloud Ecosystem
Most people have switched to using the cloud to store their info instead of looking at physical devices anymore. Additionally, 2022 will usher in the hybrid cloud era, during which time enterprise IT designs will become even more prevalent. There is nothing stopping cloud technology from exploding in the months and years to come, with businesses starting to offer cloud as a service.
Environment and Sustainability
People have been motivated by COVID-19 to reconsider how they treat nature. People are increasingly more informed, but organizations are also doing their share to promote sustainability and the environment, keeping in mind the alarming global climate changes. Environmental social governance was prioritized by businesses in 2021, and there is no question that the movement will gain traction in 2022. Additionally, multinational corporations have made commitments to reduce their carbon footprint, and eco-scoring on items is starting to take off. Customers are made aware of the environmental impact of their purchases thanks to this score, which includes them in the process of promoting environmental sustainability.
While disruptive technology enabled every part of our lives in 2021, 2022 will mark the year that these technologies are fully developed. More use cases will develop, assisting individuals and organizations in realizing the advantages and inherent potential of these businesses. The sky is the limit in terms of creativity and technology in 2022, there is no denying that. And these developments will definitely command attention and where best to learn about these technologies other than from New Horizon College of Engineering, a premiere institution in Karnataka that has been for years faithfully taken up the mantle for providing next generation engineers to provide ingenious sustainable solutions to the fixating problems of today.