How to Start an Ecommerce Website
Posted by

Categories

Blog

Date

October 28, 2022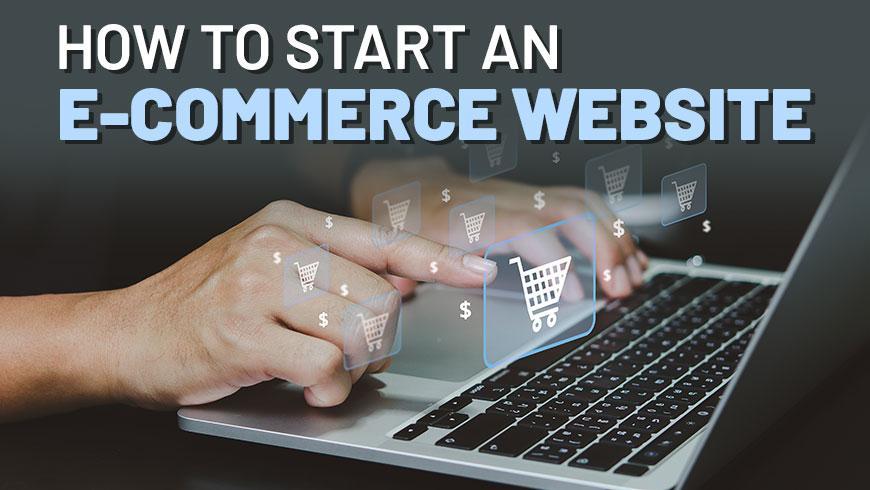 Online transactions are referred to as ecommerce, also called electronic commerce. E-commerce refers to the buying and selling of goods and services online by individuals and businesses. Other activities covered by the term "ecommerce website" include internet banking, online auctions, payment gateways, and online tickets.
E-commerce refers to the buying and selling of goods and services over an electronic network, such as the Internet. The majority of business owners use an ecommerce shop and/or an online store to manage online marketing, provide services and sales, and handle logistics and fulfilment.
Things to consider when Building an E-commerce Website: 
Make a list of the products you'll be selling: The first step in developing an e-commerce website is deciding what you're going to sell. Building an internet store around your passions results in a company you'll enjoy managing. Finding your niche doesn't have to be difficult, whether it's high-end timepieces, boutique guitar effects pedals, or fishing lures. However, a lot of businesses have been started for a variety of reasons. Maybe you've noticed a void in the market and want to fill it by offering potential customers a product that would solve their problems.
Any ecommerce project should be guided by research into the products you're selling and the customers you hope to serve, regardless of your industry. This could spell the difference between a profitable sale and a mountain of unwanted stuff. Know the industry you're about to enter. Keep tabs on what's hot and which fashions come and go. Running an e-commerce website requires understanding both the current needs of potential customers and their long-term preferences.
Then there is the rivalry. In a market dominated by big businesses with big marketing budgets, it will be difficult to advance in any way. You'll succeed if you choose a niche with more room for growth. It might also be to your advantage to enter a market with a fresh approach, distinctive branding, and a better user experience than your rivals.
Distractions are not a good thing when it comes to developing ecommerce websites because there are hundreds or thousands of dollars on the line. Even the smallest distraction could turn away a potential consumer and result in a transaction falling through before it is finished.
If you want to boost online sales or draw in more qualified leads to your store, make sure your ecommerce website is simple to use and has a clear focus on the products. This entails a clutter-free surfing experience with few pop-ups, banner advertisements, sidebars, or links, clean background colours like white or light grey, limited navigational options, legible content in simple typefaces, and a clutter-free browsing experience.
A Select a business model for your online venture: Business-to-business (B2B) and business-to-consumer (B2C) are the two most popular ecommerce business model types (B2C). Knowing the differences and how your e-commerce firm fits in is essential.
Business-to-consumer (B2C) marketing refers to the act of companies selling goods and services directly to customers without the use of a middleman. Business-to-consumer, or B2C, refers to online merchants who use the Internet to sell goods and services to customers.
Business to business (B2B): When one company sells to another, the transaction is referred to as business to business (or B2B). These companies may be manufacturers, distributors, or suppliers of goods and services to a particular sector of the economy.
Recognize your target market: One benefit of starting an online business in a market you're already familiar with is that you already have an understanding of your market since you are one of them. Even if you already have a good grasp of your customers—for instance, if you own a jewellery e-commerce site—making the effort to do so will benefit your business. Knowing who your target customers are has an impact on every step of the building of an e-commerce website. Everything on your website, from the user interface and user experience to the images and content, must be geared toward your target audience.
On the subject of e-commerce, you should be well aware of who your potential customers are. What is their background? What does their salary range look like? How old are they? And which of the websites of your rivals are they most likely to purchase from? All of this data will help you design an online store that is catered to their interests and wants, fostering a stronger connection with them and improving the user experience.
Mobile-friendly: According to studies, people are spending more and more time on their mobile devices, thus your e-commerce website should be mobile-friendly as well. While some businesses opt to create applications to fulfil this growing need, doing so requires time and resources.
As a result, ecommerce websites that are mobile-friendly are a great choice. Customers use their phones for much more than just making purchases, thus the importance of a mobile-friendly ecommerce website cannot be understated. Because it's so simple to access, more people are browsing on their phones and making more in-person and online purchases as a result.
Select a scalable and secure hosting infrastructure for your online store. This is crucial for your online business. Companies that offer e-commerce web development services can offer a variety of hosting options. In order to ensure better performance for the websites they host, web hosting companies help online businesses maintain and keep their Servers Management Setup and working 24 hours a day, seven days a week.
A high uptime e-commerce website may help you boost sales while also enhancing customer experience. Additionally, by utilising web hosting services, you might improve your website's search engine optimization (SEO), enabling it to rank higher on search engine result pages (SERPs.
According to study, over 72% of buyers agree that a website's page speed affects their propensity to make a purchase from an online retailer. Fast-loading websites are advantageous for SEO as Google uses site speed as one of its ranking factors. This is why you should work with a company that develops e-commerce websites since they will know how to optimise your store so that it is not only useful and appealing, but also quick to load.
Starting an internet retail business requires a lot of work. Although the process might seem daunting, you can accomplish it! Don't worry about getting everything perfect right now; just work through it at your own pace. Observe as you go, and adjust as you go. You can be proud of your successful e-commerce firm once you put some time, effort and most significant of all, the technical know-how on how into it.
If you appraise yourself as the next Falguni Nayar in the Indian e-commerce bandwagon but lack the technical knowledge to realize your dreams as that of an entrepreneur then the educator you are looking for is New Horizon College of Engineering. According to numerous sources, New Horizon College of Engineering is among Bengaluru's finest engineering schools, providing top-notch training that will equip students to flourish in the fast-changing technological environment of today. The college is designated as a Platinum institution and is chosen the leading Industry-Linked Technical Institution in 2020. The college has established centres of excellence on its campus and collaborates with many major IT firms, including Capgemini, AWS (Amazon Web Services) academy, Altair, VMware, IBM, and Schneider, among others, to provide the students with cutting-edge technology. For people who wish to achieve in life, New Horizon College of Engineering is regarded as one of the top engineering institutes in Karnataka, India.