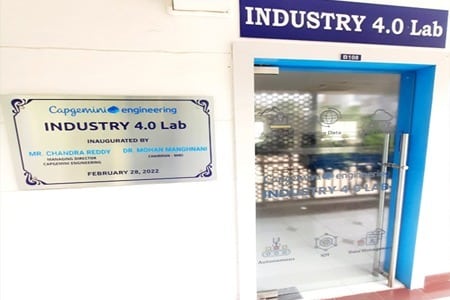 Capgemini a French multinational is a global leader in consulting, digital transformation, technology and engineering services. The Group is at the forefront of innovation to address the entire breadth of clients' opportunities in the evolving world of cloud, digital and platforms. Building on its strong 50-year+ heritage and deep industry-specific expertise, Capgemini enables organizations to realize their business ambitions through an array of services from strategy to operations. Capgemini is driven by the conviction that the business value of technology comes from and through people. Today, it is a multicultural company of 270,000 team members in almost 50 countries.
Industry 4.0 lab is open for students to learn and cultivate the current need of industries and to bridge the gap between industry and Academia.This is an embedded solution across all engineering disciplines.
Industry 4.0 leads to the convergence of physical and digital wants through technology, engineering and manufacturing expertise. The partnership of Capgemini and NHCE will provide our students an opportunity to get one step close to the industry and enhance their employability quotient.
Initiative to provide training to students in cutting-edge engineering technology streams and platforms of Industry 4.0 and bridging the technological gap between academia and industry.
To provide a platform to create an ecosystem of resources for the digital needs in the industrial segment and provide digital solutions from the engineering service industry and enhance their knowledge in Industry 4.0 platform through classroom and online trainings, hackathon and live projects.
COURSES OFFERED/Curriculum design
All students of mechanical engineering will be learning this subject as a Professional elective.