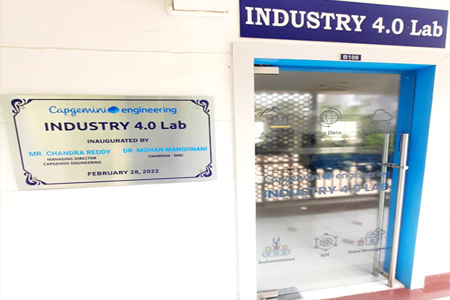 ABOUT THE COMPANY & LAB
Capgemini a French multinational is a global leader in consulting, digital transformation, technology and engineering services. The Group is at the forefront of innovation to address the entire breadth of clients' opportunities in the evolving world of cloud, digital and platforms. Building on its strong 50-year+ heritage and deep industry-specific expertise, Capgemini enables organizations to realize their business ambitions through an array of services from strategy to operations. Capgemini is driven by the conviction that the business value of technology comes from and through people. Today, it is a multicultural company of 270,000 team members in almost 50 countries.
Industry 4.0 lab is open for students to learn and cultivate the current need of industries and to bridge the gap between industry and Academia.This is an embedded solution across all engineering disciplines.
Industry 4.0 leads to the convergence of physical and digital wants through technology, engineering and manufacturing expertise. The partnership of Capgemini and NHCE will provide our students an opportunity to get one step close to the industry and enhance their employability quotient.
COURSES OFFERED/Curriculum design
Industry 4.0: Design Requirements, digital enterprise and digital twin, smart business perspectives

Manufacturing execution system (MES) : Tools, core and support module, role of 3D printing tool in industry 4.0

Data Transmission acquisition and analytics

Cloud Computing and Augment/virtual reality

Artificial intelligence and Machine Learning
PROGRAM HIGHLIGHTS
Capgemini industry 4.0 lab will serve as a platform to create an ecosystem of resources for the digital needs in industrial segment and provide certification in IIOT platform

To interact with subject matter experts in the digital solutions from the engineering service industry and enhance their knowledge.

The students will be mentored and online trainings, hackathon and live projects.

A model of Smart automation has been set up to have a real time understanding of IIOT, IOT applications and control through console
HARDWARE SETUP
Broadcom BCM2711, Quad core Cortex-A72 (ARM v8) 64-bit SoC @ 1.5GHz

1GB, 2GB or 4GB LPDDR4-3200 SDRAM (depending on model)

2.4 GHz and 5.0 GHz IEEE 802.11ac wireless, Bluetooth 5.0, BLE

2 USB 3.0 ports; & 2 USB 2.0 ports

Raspberry Pi standard 40 pin GPIO header (fully backwards compatible with previous boards)

2 × micro-HDMI ports (up to 4kp60 supported)

2-lane MIPI DSI display port &2-lane MIPI CSI camera port
4-pole stereo audio and composite video port

H.265 (4kp60 decode), H264 (1080p60 decode, 1080p30 encode)

OpenGL ES 3.0 graphics

Micro-SD card slot for loading operating system and data storage

5V DC via USB-C and GPIO connector (minimum 3A*) Power over Ethernet (PoE) enabled (requires separate PoE HAT)& Gigabit Ethernet
BEST PRACTICES
Students are provided with internship certification programs by Capgemini

Live and interactive projects mentored by industry experts

Placement opportunities for students in Capgemini

Visit by the students to industries which as adopted industry 4.0 solution for their business and freedom to interact with industry Experts on technical solutions to projects

Visit to IoT related Technical Expos and Conferences

On an average every semester 2 events are organized by IIoT COE as Workshops ,FDP , Expert lectures or Hackathons etc.
! All students of mechanical engineering will be learning this subject as a Professional elective.