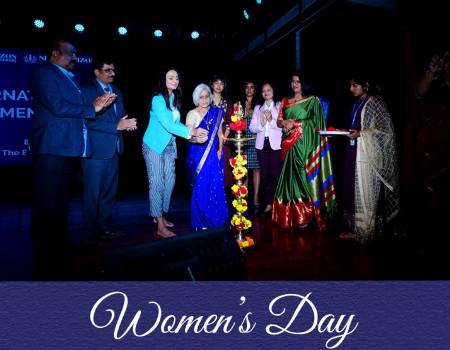 International Women's Day 2022 was celebrated on the 8th of March, at New Horizon College of Engineering with a lot of pomp and gay.  Fabulous Women Achiever's across careers and walks of life constituted an interesting panel.  The topic was #Break the Bias- Have We?  Great insights from the panellists coupled with some great entertainment from the students marked this International Women's Day.
Eight women achievers from different walks of life such as mountaineering, Interior Design, finance, Corporate and entrepreneurship narrated their experiences about the various biases that they faced and shared their success stories which inspired the faculty and the students alike.  The panel deliberated on the ways to overcome common biases and stereotypes.  Suggestions to create a diverse, equitable world that is inclusive were discussed. The panel was moderated by Dr Sowmya Narayanan, Head Centre for Life skills and Lifelong Learning.  The following emerged out of the discussion.  The differences in women needs to be valued and celebrated.
Variety entertainment included a retro mash up of songs, traditional dance, and thematic folk dance. The celebration ended in a fashion show by the I year BE students which truly was a visual treat with the theme 'Fashion meets Fantasy.'
Panelists:
Usha Ramaiah     – Mountaineer and Environmental Enthusiast
Dr Tripti Arvind   –  Educator Entrepreneur, Diversity and Inclusion coach, Mrs India 2017
Kavita Sastry      –   Architect, Chairperson-IIId BRC
Aditee Amitabh   – Global Account Director, SAP
Nithya Cadambi  –      Director Finance, Commvault India and APJ
Divya Mehrotra    – –    Mindful coach and Womenpreneur
Dr Sheelan Misra –   Head Management Studies and centre for Innovation, Incubation and Entrepreneurship
Dr Sowmya Narayanan Moderator – Head Centre for Life skills and Lifelong Learning
Organizers of the event: Dr Sowmya Narayanan and Dr Anusuya Head Chemistry.