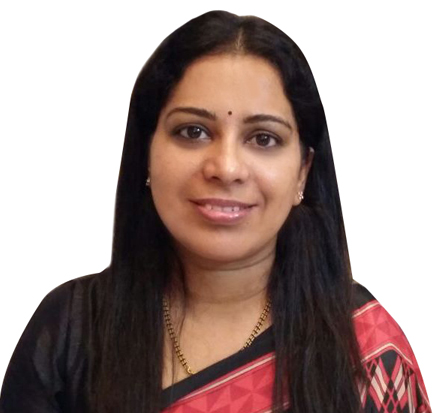 Dr. Anitha S Rai
HOD – Library & Information Center
The NHCE Library is a resource center for teaching, learning & research. Being the heart of the academic center, it is home for all the information services. It plays a proactive role in enabling access to information resources of all kind and providing innovative, responsive and effective services to meet the changing needs of the academic community.The major objective of our library is to provide authentic information to the student at any given point of time. The library is spread over two floors with 605 seating capacity, state of art digital library, Adobe Digital Center of Excellence, ID-Card Center, Video Conference Room, Online class room with recording facility, Students Discussion Rooms, Faculty Discussion Room, and Books & Stationery shops are available in the Ground Floor and Stack Area, Reference Section, Circulation Counter, OPAC Search, Journals/Magazines and Newspaper Sections are made available at the Lower Level of the library building. The Library holds a hybrid collection of printed as well as electronic resources which include books, journals, databases, audio-visuals, CDs/DVDs, e-books, e-journals, reports, course materials, previous years question papers, bound volumes, project reports, case studies, conference proceedings, training manuals, etc. Currently the library holds over 46978 volumes, 68 print journals, provides access to electronic resources, newspapers and business magazines, and 4198 multimedia resources, and also have institutional membership of ISTE, CSI, DELNET, IETE, and IEI.
VISION
Empowering NHCE research and learning community with expertise, innovative services and outstanding collection in a networked world.
MISSION
To provide physical and virtual spaces respond to its users to enrich the learning experiences and to multiply the ways in which people can pursue excellence.
Library Spread Over Two Floor
Stack Area
Reference Section
Periodicals, Newspaper and Magazine Section
Reading Hall
State of the Art Digital Library
Adobe Digital Center of Excellence
Video Conference Room
Online Classroom with Recording Facility (e-shikshana)
Students Discussion Rooms
Faculty Discussion Room
Books and Stationary Shop
Coffee and Tea Point
Circulation Service
Reference Service
Online Reservation
Institutional Repository
Reprographic Service
Document Scanning
Document Printing
Inter Library Loan
OPAC (Online Public Access Catalog)
OPAC (Online Public Access Catalog)
NPTEL
Overnight Circulation
E-mail Reminder
SMS Alert
Online Lecture
Organising Book Exhibition
News Paper Clippings
Similarity or Plagiarism Checking Service (Turnitin)
Identity card should be shown at the checkpoint.
Leave your bags, handbags and personal belongings at the depository/property counter.
Students are prohibited from carrying any notebook inside the reference section except loose sheets.
No person shall write on, damage or make any mark on any book, journal or other material belonging to the library.
Books should be handled with great care and damage of books in any manner will be heavily fined.
Students can retain the books for two weeks only, after which a fine of Rs.1/- Per book per day (Rs.2/- after 15 days) will be charged.
Students can borrow three books, 2cds, 2 Periodicals at a time.
Renewals are allowed only when there is no claim by others. No phone renewal will be entertained.
A borrowed book if recalled by the Librarian must be returned immediately.
Online reservation can be done for a book, which is already lent out. Reserved books are kept separately in circulation counter for two days for each member.
Maintain a Queue at the circulation counter.
Wearing ID-Card is compulsory.
Usage of mobile phone is prohibited.
24/7 open, 365 days
Individual cubicles and group discussion rooms are provided for individual and group learning
Online classroom
Video Conference room
The NHCE library provides a well-established Digital Library and Adobe Digital Center of Excellence where students can access institutional repository, electronic resources, Guest Lectures and video lectures.
Project assistance with regard to providing rare collections
To give guidance for an academic project like open source software, Apps, etc.
Online discussion forums
To conduct a quiz competition to upgrade their current general knowledge in core areas
Special lecture on plagiarism, reference tools, information search tools and techniques
The library staff visits other libraries to assimilate their viable practices and make efforts to adopt the methods.
Providing internship program to M.L.I.Sc. Students for a month or two.
Book Exhibition will be organized once in a year
Extended library opening hours as per the students' requirements.
The information literacy program is conducted every year for our students and teachers
To receive an online feedback from students with regard to facilities, resources, and service. It gives an opportunity to enhance library facilities, services, and resources. Students' feedback is also taken through the suggestion box
A erudite Library homepage is created for information dissemination.
24/7 Access to Electronic Resources through remote access
Web OPAC is available for our students and faculty members to check the availability of resources and they can also login to their personal account to see which books and CDs are borrowed from the library and its due date.
Students can make online reservation for Books through the OPAC
The library sends an E-mail reminder to collect reserved books from the Library.
SMS Alert through http://way2sms.com(free website) is used for sending messages to the students.
Two more books are issued to the Branch Toppers every Semester.
| NAME | QUALIFICATION | DESIGNATION | PHONE NO AND E-MAIL |
| --- | --- | --- | --- |
| Dr. Anitha S Rai | M.L.I.Sc., MCom, MPhil, Ph.D | Head- Library and Information Center | +91-80-6629 7777; nhcelibrary@newhorizonindia.edu |
| Mr. Prashanth | D.Lib., (M.A) | Library Executive | prashanth@newhorizonindia.edu |
| Mr.Vinayak Kubihal | M.L.I.Sc. | Library Officer | vinayakk@newhorizonindia.edu |
| Mr. Ramanjineya R | M.L.I.Sc., K.SET | Library Officer | ramanjineyar@newhorizonindia.edu |
| Ms. RojaBai R | M.L.I.Sc. | Library Officer | rojabair@newhorizonindia.edu |
| Mr. Murali. K | M. L.I.Sc., K-SET, NET | Library Officer | muralik@newhorizonindia.edu |
| Ms. Ashwini Kadoli | M.L.I.Sc. | Library Executive | ashwinik@newhorizonindia.edu |
| Mr. V. J. Sudharsan Rao | M.C.A, M.L.I.Sc. | Lab Instructor | sudharsanrvj@newhorizonindia.edu |
| Mr. Mallesh Y | Dip. CSE | Lab Instructor | malleshy@newhorizonindia.edu |
| Ms. Yogalakshmi B H | MLisc | Assistant Librarian | yogalakshmi@newhorizonindia.edu |
Head-Library and Information Center
New Horizon College of Engineering
Ring Road, Near Marathalli,
Bangalore – 560 103, INDIA
Tel : +91-80-6629 7777
Ext: 2131
Ext: 2010
Fax : +91-80-2844 0770.
Email: nhcelibrary@newhorizonindia.edu
nhcelibrary2@newhorizonindia.edu