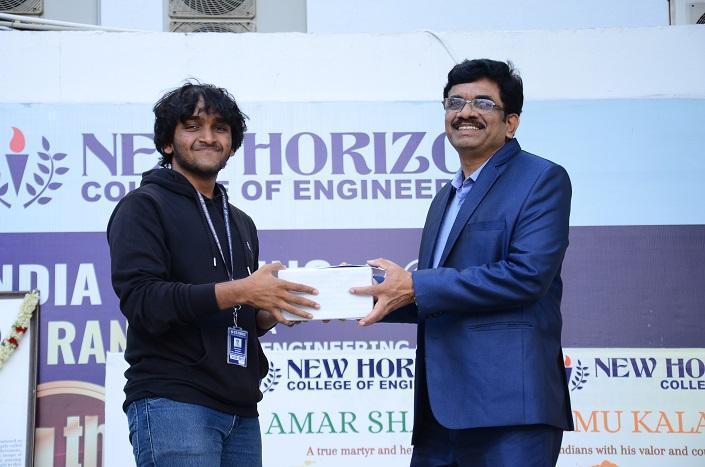 ABOUT THE COMPANY & LAB
FANUC INDIA Private Limited is a subsidiary of FANUC CORPORATION and was established in 1992 with its headquarters in Bangalore. Their main objective is to provide the Indian market with the entire range of top of the line FANUC products coupled with value added services thereby delivering the least cost of ownership to our customers.
FANUC Series 0i CNCs support effective maintenance functions as standard-useful maintenance. FANUC Robots are known for very high reliability and performance. FANUC manufactures many components of Robots in-house such as Servo Motor, Servo Amplifier, Mechanical Unit, Robot Controller etc.
FANUC ROBODRILL is suitable for versatile applications to meet wide-variety of machining needs.
Fanuc India Lab has been set up at New Horizon College Of Engineering as per AICTE Modernisation and Removal Of Obsolescence-MODROB-Embedded Based Internet Of Robotic Things(IORT) Lab grant . Mr Nanda Kumar, Executive VP Fanuc India along with Dr. Mohan Manghnani , Chairman-NHCE inaugurated Fanuc India Lab at New Horizon College of Engineering on 14th October 2022.
COURSES OFFERED/Curriculum design
Programming of Industrial Robot as Open Elective: The curriculum of this course has been designed in consultation with experts from Fanuc India to fulfil the industrial automation requirements.

This course delivers content on robot programming for various applications using Robo-guide software and Fanuc Robot ER-4iA .

It covers the concepts of setting up of frames, usage of various program instructions Robot interface with peripheral devices, palletization, pick and place applications.
PROGRAM HIGHLIGHTS
Fanuc India Lab aims at providing skills, capabilities, knowledge, safety (self & machineries), confidence & responsibilities needed to design, develop, implement, maintain, support or operate any technology-oriented application, product or services.

Faculty & Students have access to Robo-guide software, lab manual and Robot specifications for automation programming.

Faculties of Fanuc India Lab have undergone extensive training program for teaching this course.
BEST PRACTICES
Students are provided with internship certification programs by Fanuc India Ltd.

Visit by the students to Fanuc India and freedom to interact with Fanuc India Experts on technical solutions to industrial automation projects

Exclusive sessional talks and workshops are conducted on Industrial Automation by experts from Industrial Robots and Automation Industry.

More emphasis on Practical learning
! All students of mechanical engineering will be learning this subject as a Professional elective.